New book by Maya Nash - Once Upon a Fairies Wing
Maya's new book... Once Upon a Fairies Wing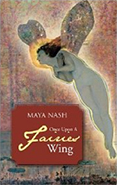 Do you have a favorite fairy tale? Peter Pan, Cinderella…we all loved fairy tales growing up, funny how even as adults we remember. Makes you wonder where the inspiration for these stories came from, doesn't it?

Could it be just figments of the imagination….or something else…..elemental forces working in unison with Mother Nature that inspires mankind to create magic, as earth donations its unique gifts every day of every season since time began. Once Upon a Fairies Wing is sure to make you see Nature and magic through more reverent eyes.

I have always loved fairies , the garden…and of course….and working magic, and intertwined those loves into this book. I wanted to introduce the fairies in a more personal way- sharing the origin and influence they have had since ancient times. Discovering the important role of each, signals us to be more mindful of the planet we share with them. As you become familiar with the Elemental forces of Nature, secret incantations and spells to empower are translated to help you awaken your personal gifts and powers. And, just for fun ,recipes for fairy potions and yummy treats are included. Along with a poem or two, to help you take flight….upon a fairies wing!
Book launch party Saturday August 3, 2013 7PM, at Mind Over Matter, 85 South Broadway, Nyack New York. Copies of Once Upon a Fairies Wing are on pre-launch sale at Amazon.com
Find Us On Facebook!
Check out the Mind Over Matter page on Facebook!
Holiday Gift Idea's from Mind Over Matter
Give the gift of the future with a gift certificate for a psychic reading. They come boxed pretty and ready to give. Can be used for phone readings as well so they can be mailed easy to friends far and near. Buy 3 get one for yourself for free! Offer expires 12/20/12
Its the perfect time of year to snuggle up with a pot of tea and a good book! Pick up a copy of Maya's book "Tea-ology". We now carry Twining's tea, as well as vintage cups and tea pots.
Take care of dry winter skin with natural bath salts- great stocking stuffers Lavender, Mint and Eucalyptus, and lots more!
Stop by for a spell and check out the new look and new merchandise!
Book early for your holiday events. Private, corporate or house parties- still some dates available.